Seasonality in the clothing and apparel industry can make both the supply chain and logistics a serious challenge. It is of key importance not to underestimate the role an effective logistic plan can play.
From initial steps such as design and material sourcing, to factory and retail store delivery, you need a reliable partner to make sure everything can run smoothly and accommodate time-sensitive deadlines.
Luckily, with a service like that provided by Royale International, the entire journey of clothing shipping can be understood, easily navigated, and traced – from conception to consumer.
Rethink your strategy and planning with our analysis below: 
The Supply Chain
What is the apparel Supply Chain
Apparel and clothing have a relatively simple supply chain, yet there are many steps involved due to its labour-intensive nature.
The supply chain within the fashion industry involves various people and locations before said clothing reaches its final destination. The more people and places involved, the more complicated supply chains become. With so many elements involved in clothing shipping from start to finish, it is key to understand how it gets where it needs to be.
The complexity can cause serious issues. Using different courier companies and services for every leg of the supply chain requires serious logistical planning and the skills to align everything together, much of which may be outside of your control. As mentioned, the more people involved, the harder things can become, so it is important to strike a balance. When it comes to clothing shipping, there are only a few elements to consider. Simplicity, ease and efficiency.  
With Royale International, every section of the supply chain can be taken care of by a dedicated team, taking the pressure and stress surrounding the whole process away. When you use one particular courier or shipping service to oversee the arrangements, you can save time and rest easily knowing everything is being taken care of. Royale International, as a well-respected and experienced global courier company, can handle everything for you with a dedicated account manager. Having a dedicated account manager to assist you and oversee every step puts an end to supply chain troubles.
Take a look at how Royale International, and your dedicated account manager, can assist you in every step of the process.
Step #1: Design to Production 
The design stage is the first part of any supply chain, and the fashion industry is no different. Design for clothing involves everything from style and silhouettes, to fabrics and finishes. When coming up with designs, one of the most important elements is having a tangible, physical selection of materials. This way businesses able to make an informed decision about what works and what doesn't, while being able to see the colour in person, and feel the texture.
This is the beginning of the supply chain, and therefore the first stage that your dedicated courier partner (such as Royale International) can serve you. Royale international will assign you a dedicated account manager, and it will be their job to sort and coordinate every section of the supply chain logistics on your behalf.  
The design stage will require various material samples, fabrics, and other apparel accouterments to be shipped to the design team. Samples will come from a number of different places and providers, and your account manager will work to ensure that the design team has all materials in a timely manner, thus avoiding any delays and disruption to the time-critical supply chain.
Step #2: Production to Manufacturing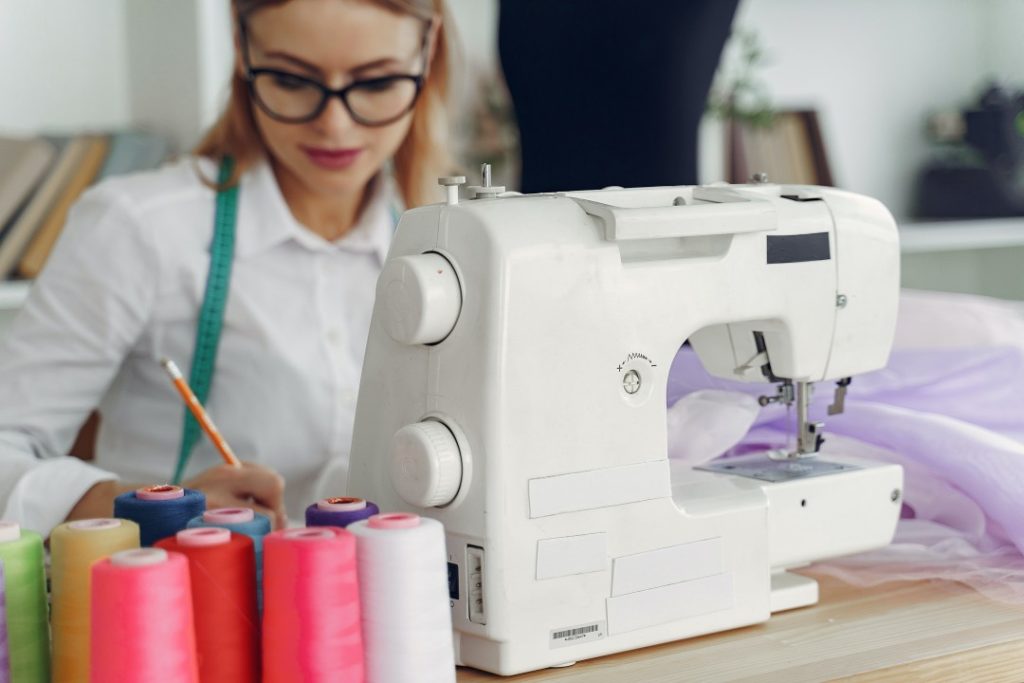 The process of production is arguably the most important part of the supply chain. After all, without production, there would be no business! Production is also one of the most complex parts of the supply chain, second only to transportation (Step #3).
The design team will have finalised the design and sent it to the factory. The factory may well need the physical design for material reference and other key parts. It is also quite likely that the factory will make a prototype garment or piece for the design team to approve before production can begin, adding another element of transportation between the factory and the design team.
The back and forth between their factory and office needs to be fast and efficient, as delayed delivery can hold up production, which would be likely to incur significant costs. Your account manager would be able to oversee this exchange and make sure no time is lost due to delivery requirements. When choosing your courier partner, it is key to use one with international, global presence, making the process of crossing borders and customs much more straightforward.
An additional stage of garment production is of course the supplies; various fabrics, accessories (such as design elements, zips, buttons) all need to be sourced, and the factory will need them all to arrive at the same time to commence production. Just like simple place to place transportation, your account manager can oversee this process and ensure, together with Royale International's global team, that everything arrives on time when needed, with no delays to hold up production.
Furthermore, if you have any questions, concerns or additional requests, you can contact your account manager, who will do their utmost to help where they can, so you get the service you expect.
Step #3 Manufacturing to Transportation  
Once the design and production elements are completed, there is the transportation of the products to consider. The clothing shipping and transportation can be broken down into two main stages.
First of all, all the products (the likelihood being they wouldn't all have been made in the same factory, or even the same country), would need to be transported to the warehouse. The simple transportation is fairly straightforward, yet your logistics partner can further help by carrying an accurate inventory of what, and how many pieces of each product they have delivered. This makes the process of stock-taking and inventory management a far easier task, as the delivery team would ensure that what they picked up was logged and handed off the person or persons receiving the delivery, so they knew what they were getting. This can be done and communicated through your account manager, who would take control of all clothing shipping to the warehouse.
The next stage is slightly more complicated and is arguably the most difficult part of the supply chain to handle without a team of experts, simply due to the number of people who have to be involved. This stage is the transportation of the products to the appropriate place at the appropriate time.
Products in the warehouse need to be packaged and labelled (unless this is done at the factory), before being taken to their various locations. Each item the warehouse stocks will need to be divided into the necessary numbers needed by each retailer who will be selling your stock. For clothing, the whole process is a bit more complex, as a selection of sizes needs to be available at each retailer, and the right number of pieces depending on their size. Additionally, larger stores may require not only larger numbers, but certain items that some smaller outlets may not stock. Not only does all this need to be packaged and arranged for potentially hundreds of stores, but it then needs to be transported separately to each of these retailers which would, in many circumstances, be hundreds of miles apart, if not more. It is also to note that some items of clothing will be of higher value, and therefore may need to air-freighted to their destination, due to the time-sensitive nature of these particular items. 
Your account manager makes the whole supply chain run smoothly, but the clothing shipping stage is where they really come into their own. The delivery of the correct garments to the correct place at the correct time is all about sophisticated logistics, and that is what teams like Royale International specialize in. Your account manager will be able to coordinate completely, taking the pressure and stress off of you and your company.
Their years of experience make Royale International an exceptional shipping partner who can coordinate your entire supply chain on your behalf. Their experience extends across a number of different sectors, with the fashion sector being no exception. Royale International have worked with well known fashion brands, such as Zalora and Ted Baker for years, which only serves to further them as a key knowledge base in the clothing supply chain. Not only will this whole system help to prevent stress and anxiety over potential problems, but eliminate them and ensure you save cost, time and manpower. The icing on the cake, so to speak, is the fact that this smooth, timely and efficient delivery will positively affect your company's reputation as a reliable, trustworthy supplier. 
Are you ready to improve your logistic planning with dedicated account managers and flexible courier solutions? Contact us today.