E-Commerce is flourishing across the globe, and Australia is no exception. With a population of twenty-five million, Australia is one of the top E-Commerce markets.1
More and more retailers are serving customers through online platforms instead of traditional brick-and-mortar stores. Moreover, Covid-19 has accelerated the shift towards Australia's E-Commerce market through the implementation of social distancing measures and lockdowns. These measures have enhanced online sales and retail spending.
How will the Australia E-Commerce market expand in the next years? 
The following statistics will visualise the current E-Commerce trends.
1. Australia was ranked the 11th largest E-Commerce market in the world in 2020 and has experienced strong growth over the past period.2 The Covid-19 pandemic will further drive E-Commerce sales at a compound annual growth rate of 10.3% between 2020 and 2024. Besides this, experts also forecast a year-on-year increase in E-Commerce revenue in the future.3
One of the major reasons for Australia's E-Commerce growth is the changing shopping behavior because of the Covid-19 pandemic. In a time of crisis, people have shifted from visiting traditional brick-and-mortar stores to online shopping. The convenience brought by E-Commerce through home deliveries and PUDO networks is expected to gain popularity, reach wider audiences, and increase sales for retailers in the years to come.
Click here to view how coronavirus drives your E-commerce business.
2. The fashion and apparel sector are forecasted to drive Australia's E-commerce market. The industry is expected to experience an increase in online apparel sales, from US$19,912 million in 2018 to US$21,739 million in 2022 and US$22,282 million in 2023.4
Among all clothes, athleisure, unisex fashion and footwear were the fastest growing fashion segments, achieving over 75%, 49.7% and 32% year-on-year growth respectively.5 These segments provide opportunities in the Australian market which retailers can utilise to attract customers and increase profit.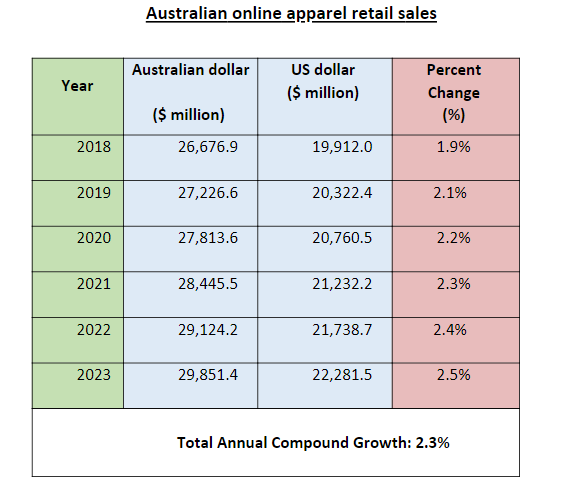 Click here to view why E-commerce is crucial to fashion and apparel industry.
In conclusion, Australia's E-Commerce market is booming and continues to grow in the near future, with fashion and apparel as key segments.
Click here to learn why PUDO is the best option for E-commerce in Australia.
Click here to understand how our E-commerce services can help your business.
Reference:
(Wade, 2018). Australia's population clock hits 25 million.
(International Trade Administration, 2020). Australia E-commerce.
(Australia Post, 2020). Inside Australian Online Shopping.